A 32-inch TV today is considered an entry-level TV. It has an HD ready resolution and comes with the most basic features one would expect from a TV. While there are 32-inch HD ready TVs available around the 10K budget, most of them don't come with any decent smart capabilities. To get a 32-inch TV running on the Android TV UI, you will have to shell out 15-16K. Here we have brands like Xiaomi, OnePlus, AmazonBasics and more offering TV with decent smart capabilities. Today we have with us the Coocaa 32-inch S3U Pro. The TV runs on the company's own Coolita OS 1.0. Let's dive deep into the TV and see how it performs. 
Coocaa 32-inch HD ready TV Specs at a glance
Panel Size: 32-inch 
Panel Type: IPS
Panel Resolution: 1366 x 768 – HD Ready
Panel Refresh Rate: 60Hz
HDR 10 support: No
Dolby Vision Support: No
Weight (with stand): 3.2 kgs
HDMI Ports: 2
USB Ports: 1
Bluetooth: No
Wi-Fi: Yes (2.4Ghz Only)
Ethernet: Yes
Speakers: 2 drivers with a total sound output of 20W
Built-in storage: 4GB
Price: MRP: 10,999
Coocaa 32-inch HD ready TV: Display and picture quality
Let's kick things off with the display panel and picture quality. The TV has an HD ready resolution and does not support any HDR formats. In our measurements, we recorded a peak brightness of about 200 nits which is more than sufficient for SDR content. In our ColorChecker Analysis, we found that the movie preset had a low delta error of 4.6 while the standard preset had a delta error of 14.7, but the real-world performance tells a different tale. Let's break down the content we consumed on the TV.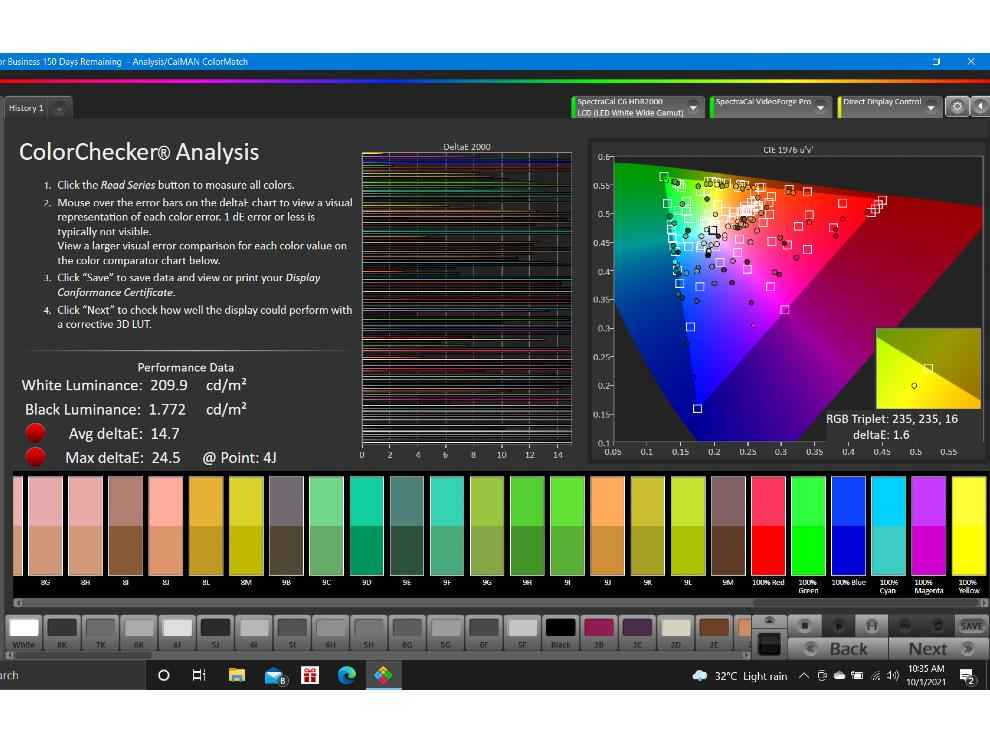 Above: ColorChecker Analysis in Standard preset of the Coocaa TV.
Below: ColorChecker Analysis in Movie preset of the Coocaa TV.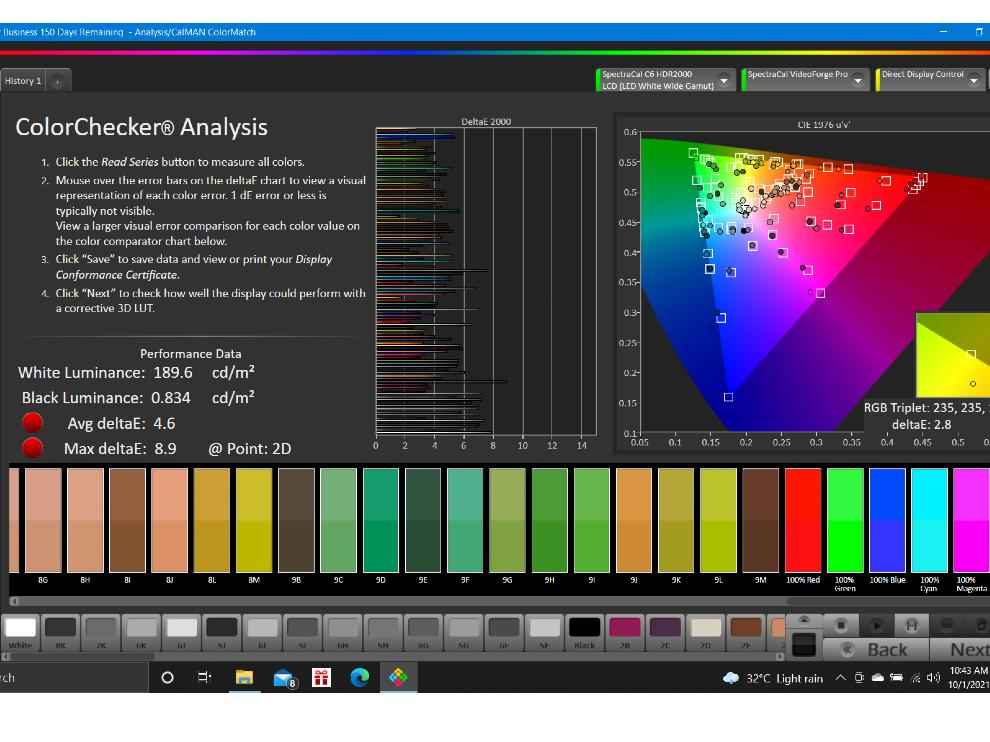 Coocaa 32-inch HD ready TV: SDR performance
Since the TV does not support HDR, all the content we saw on this TV was in SDR and the results were quite interesting. Starting with the settings, while the Standard preset has a higher error than the movie preset, we found that keeping the TV on the standard preset and switching the colour temperature to warm gave a better overall performance. Look at the image of Jack Ryan below.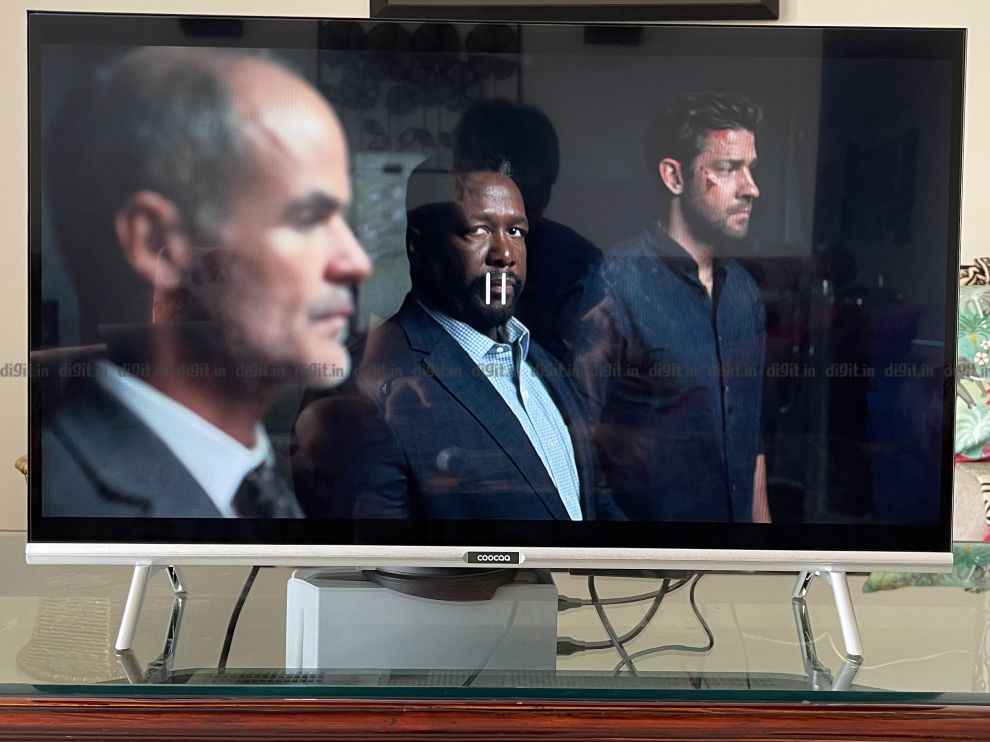 Above: Jack Ryan on Prime Video played via PS5 on Standard Preset
Below: Jack Ryan on Prime Video played via PS5 on Movie Preset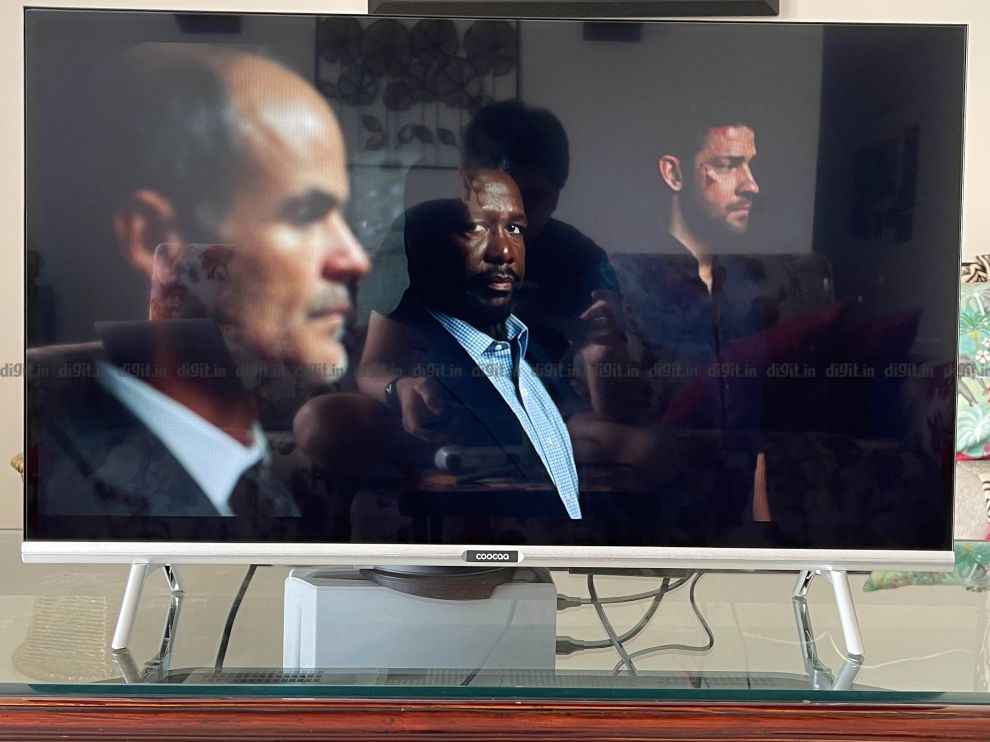 In the Movie preset you can see that while the colours are a tad more accurate, but there is a loss of detail in this dark scene. On the other hand, the Standard preset gives you more details of the scene. For most content consumption, I recommend keeping the TV on the Standard preset and changing the colour temperature to warm. 
Even content like Our Planet on Netflix played in SDR on the TV and the overall output was good and enjoyable. Same for Young Sheldon on Prime Video or even Spider-Man: Homecoming on Netflix. In both cases, we have good colours and the TVs brightness is ample enough to get the job done in a decently-lit room. If you are looking for a TV to connect your set-top box then this is a good budget panel to have.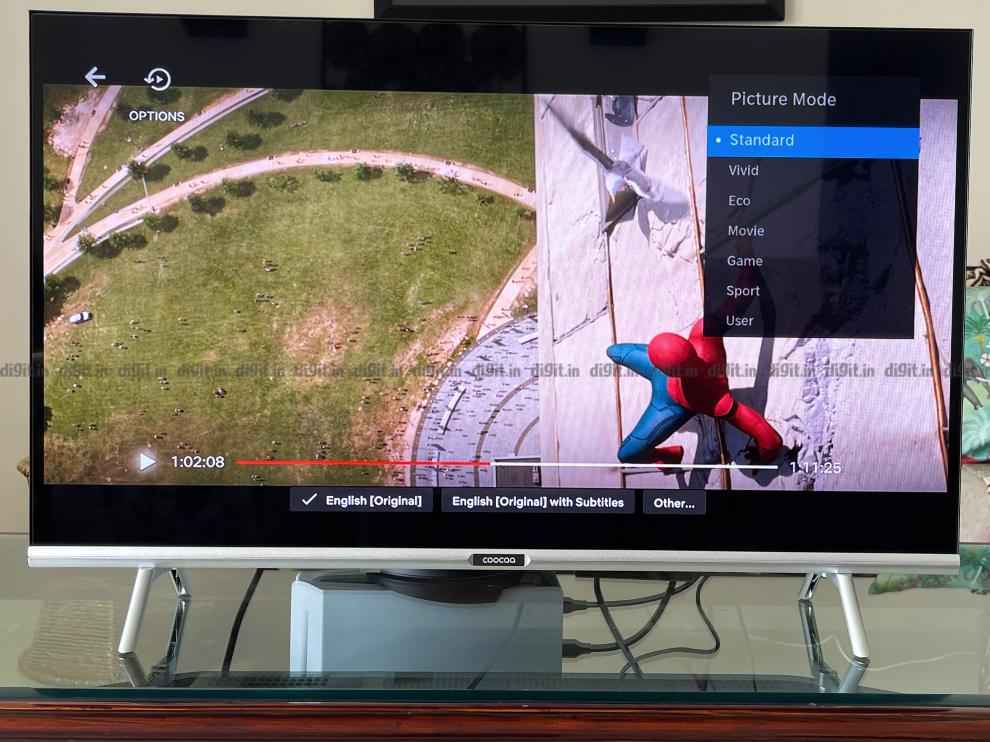 Coocaa 32-inch HD ready TV: Gaming performance
We connected our PS5 (review) to the TV and while the PS5 is overkill for this TV, it should give you an idea of the gaming capabilities of the TV. There are two "game mode" settings in this TV – one in the picture presets and the other in the settings. It would be tough for me to tell you which one works for input lag as toggling both on and off had little effect on anything but the picture settings.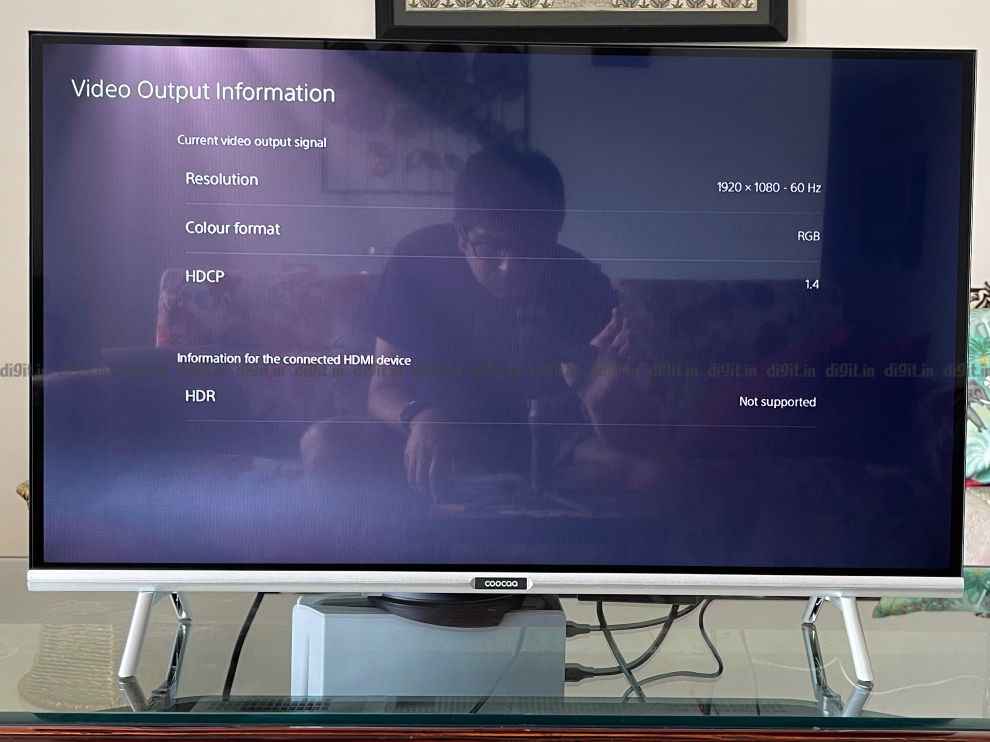 We played our standard slew of games from Spider-Man Miles Morales (review), Ghost of Tsushima (review), Dirt 5 (review) and more and honestly, considering we are playing in SDR the experience was acceptable considering the price of the TV. The console is outputting in 1080p on this TV so you are getting a super-sampled image on the 1366×768 display, which is good. You will notice the low resolution of the display on in-game text, but that's just a small niggle in an otherwise decent experience. The colours in the games looked good, and there was no sequence that felt too dark for comfort. So, if you have a PS4 or Xbox One and hook it up to this TV, you should do fine. 
Overall, the panel performs quite well for a TV priced around 10K. but you have to know that HD ready TVs have been around for about 2 decades so we'd be surprised if the TV delivered sub-par performance.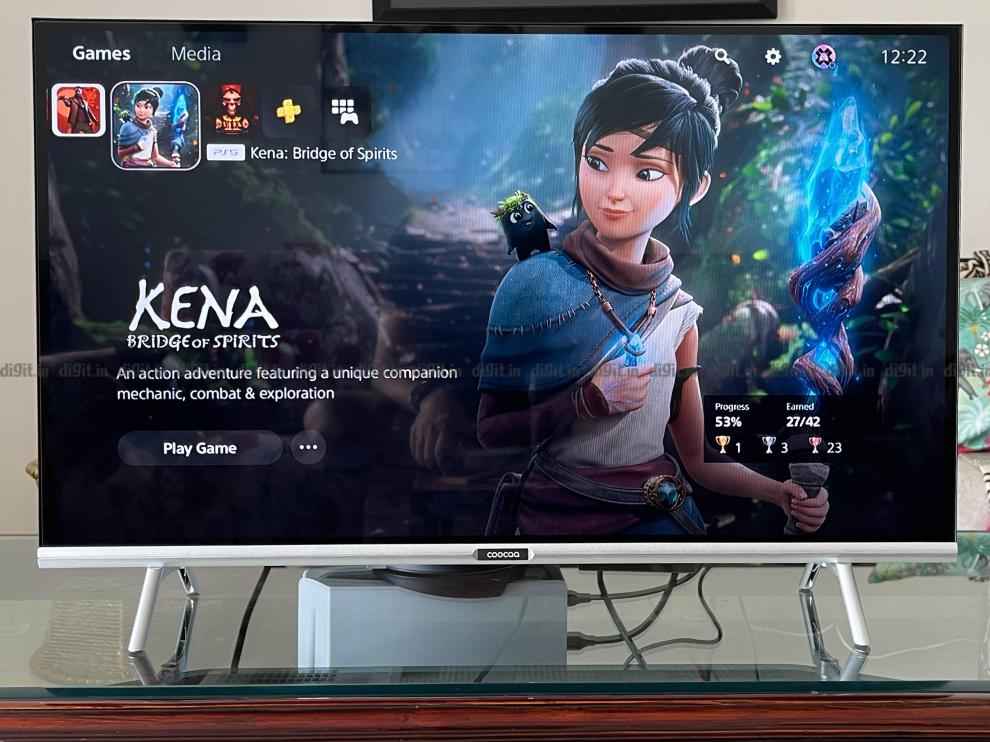 Coocaa 32-inch HD ready TV: Audio performance
While the 32-inch Realme TV (review) we reviewed earlier this year has 24W of sound output from 4 drivers, the Coocaa TV we have today supports 2 drivers with a sound output of 20W. The sound quality isn't the best, and of all the sound presets, I found leaving it on standard and keeping the surround sound off had the best output. While the speakers are fine for everyday content consumption like news, documentaries and TV shows, it's with movies, games and any form of mixed audio where they lack the punch. At about 25 the volume is easily audible for a small to a mid-sized bedroom (10 feet by 12 feet) but don't expect to be engulfed in a cinematic experience. 
Coocaa 32-inch HD ready TV: UI
The Coocaa  S3U Pro runs on the company's own Coolita OS 1.0. While the 1.0 should be an indication that it's in its first generation, it lacks popular streaming services like Netflix, Prime Video, Hotstar, Sony Liv, Voot, and many many more. It has YouTube and Hungama Play, if that's something you consume.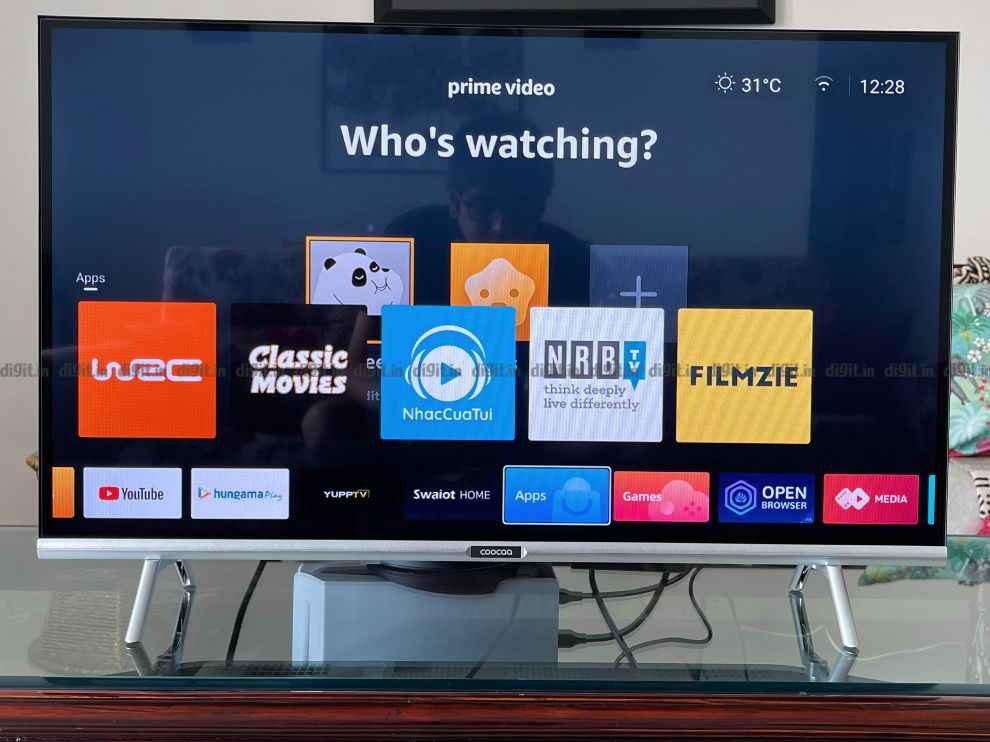 The UI only occupies the bottom of the screen and all the apps and app stores are listed in a line, much like what we've seen with LG's WebOS. If you select YouTube, you get a second row showing you content in the service without actually opening the app. We've seen the same implemented in LG's WebOS UI on many TVs. While it is functional and works well, the lack of apps like we've seen on Android TVs is disappointing. There is no assistant here either for voice commands. While this TV is about Rs 4000 cheaper than a 32-inch HD ready Android TV, the lack of the smart OS shouldn't be a problem for those looking to exclusively consume content via a set-top box. You can always invest in a Fire TV Stick in the future to get a smart TV experience from this TV. 
Needless to say, the Coolita OS 1.0 offers a very basic internet-enabled TV experience. 
Coocaa 32-inch HD ready TV: Remote control
The remote control that comes with the TV is simple and ergonomic. It's not a Bluetooth remote control so you have to point it in the vicinity of the TV to get it to run. It has OTT hotkeys for YouTube and Hungama Play. It also has a volume rocker, home, back, menu, source, select, directional buttons and more. Overall, the remote is simple and easy to use.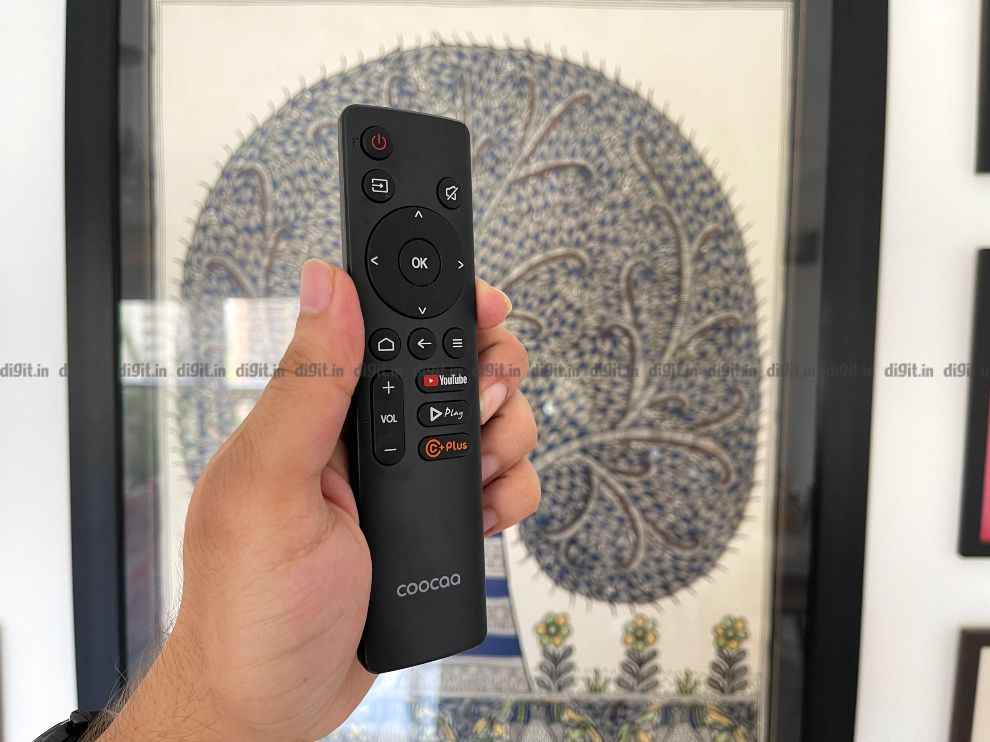 Coocaa 32-inch HD ready TV: Build and design
The TV has simple silver plastic feet holding it in place and the feet have an arch design similar to the one we saw on the Blaupunkt Cybersound TV (review). The chin of the TV is the thickest bezel and the silver there blends with the feet. The TV has black bezels on the other 3 sides. They do a good job of blending in, making it as though the TV has almost no bezels but if you pay attention, you will notice them.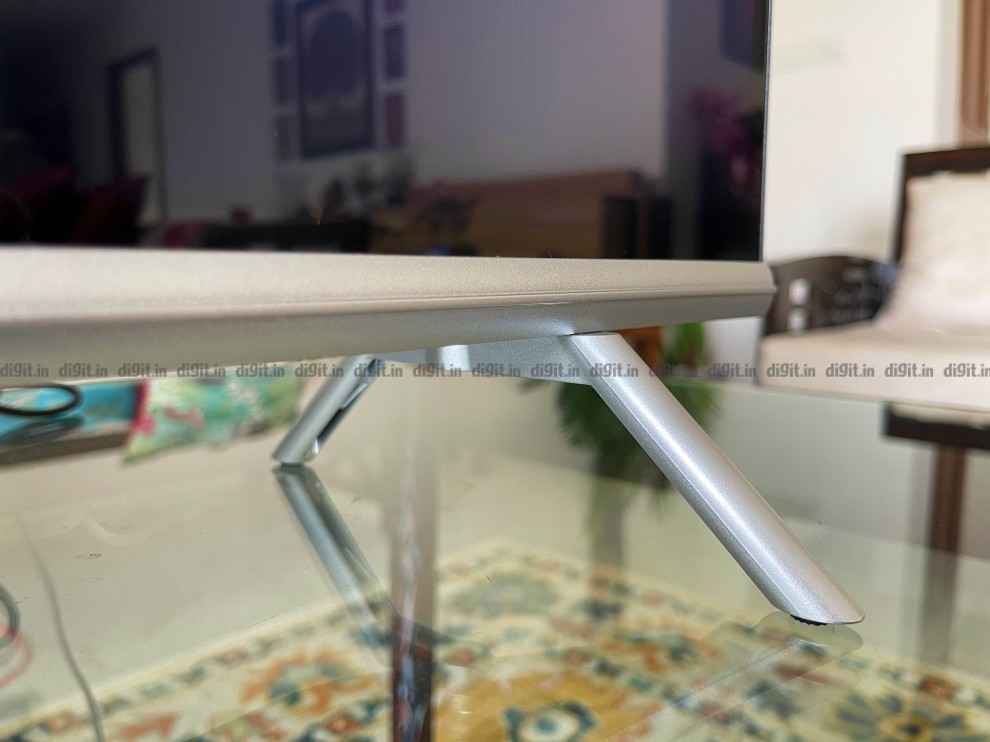 Coming to connectivity, the Coocaa TV has two HDMI ports, one USB port, an antenna port, 3.5mm out, AV in and a LAN port. There is no Bluetooth. While the TV supports Wi-Fi it only supports the 2.4GHz band which shouldn't be a problem for most users.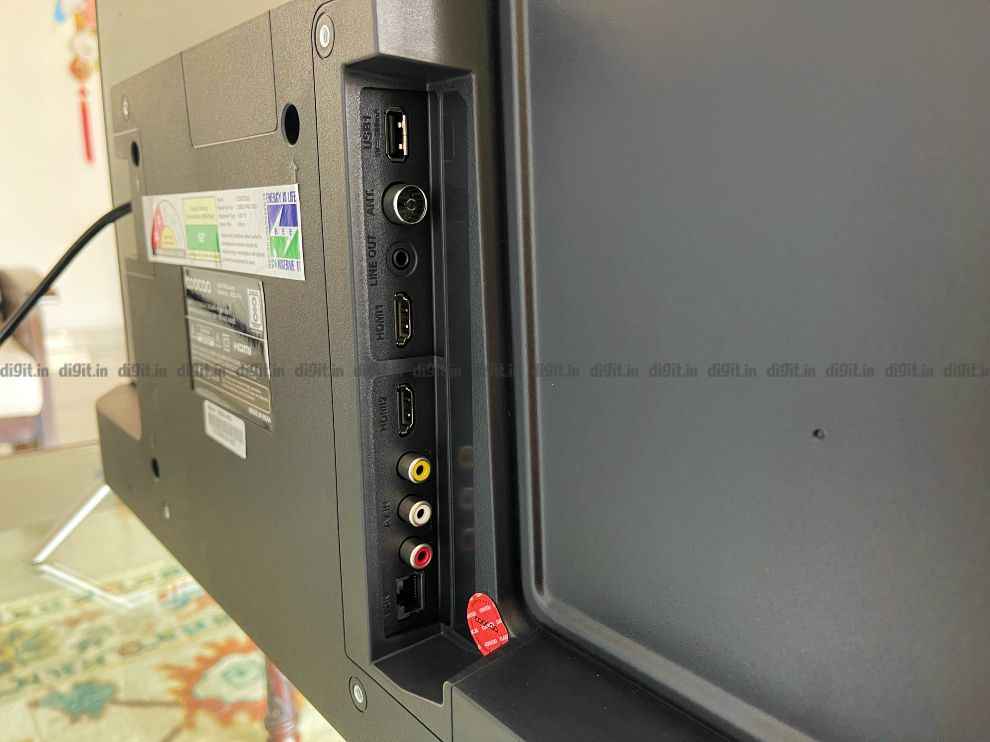 Coocaa 32-inch HD ready TV: Verdict
What the Coocaa 32-inch S3U Pro has going for it is a good SDR, HD ready panel for content consumption from a set-top-box or even an external source like a Fire TV stick. If smart features are not important to you and you want a good panel on a budget, then you can check out this TV. The audio output from the TV is average. Where it falls short is with its Coolita OS 1.0. which make the device feels more like an internet-enabled TV than a smart TV. It lacks popular streaming apps and the app store has only a handful of apps as of writing this review. The catch is that for a decent smart TV experience you will need to spend at least Rs 4000 more. If you are going to use a TV with your set-top-box only, then you can go ahead and check this TV out and save the Rs 4000 considering the overall performance of the panel of the TV. If you decide to delve into the world of a "smart TV" you can always consider a device like the Fire TV stick to make this a "smart TV" as the panel it offers is pretty good for everyday content consumption considering the 11K price point.